Our college organized a trip to Mehran Garh fort. On our way we had a history check about the place we found out that Mehrangarh fort was build in 1459 by Rao Jodha.It is one of the largest forts built in India.Rao Jodha was fifteenth Rathore ruler.Once he succeeded the throne, he decided to move his capital to a safer place Jodhpur.Rao Nara helped in laying the foundations of a fort on a hill nine kilometers from Mandore.The hill was known as Bhaucheeri, the mountain of birds.It is believed that to build the fort Lord of birds was displaced forcefully, due to which he cursed Rao Jodha with scarcity of water.The sources of story are not reliable but the scarcity of water is still there.It is hard to figure out whether the story was narrated by legends or legends were created to explain the scarcity of water.Many such stories surround the Mehrangarh fort.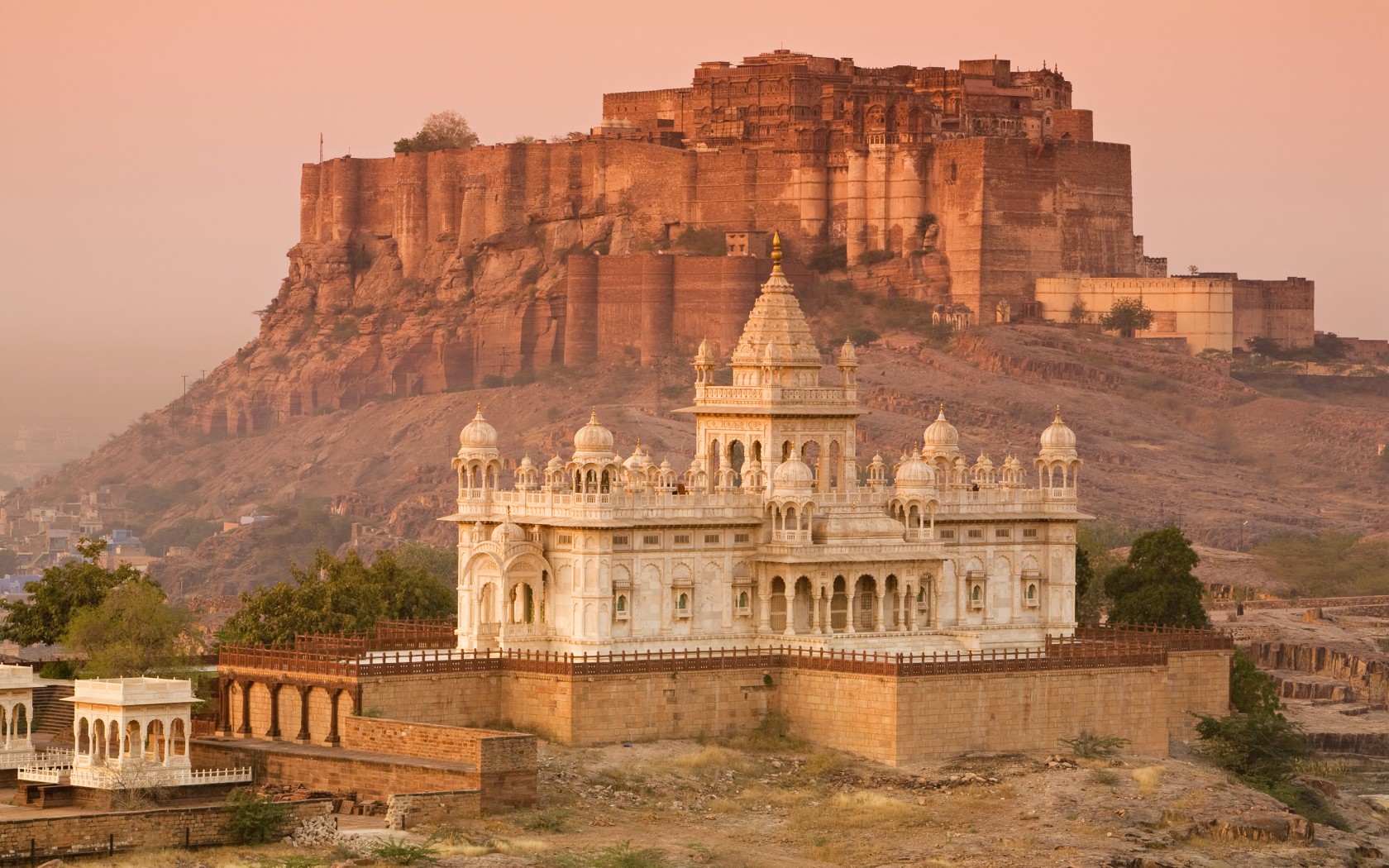 Mehrangarh(Mehran: sun, garh: fort) fort foundations have another such story.It is believed that it is because of Karni Mata(a sage warrior) that the fort is still in possession of Rathore family, all other forts were abandoned for some or other reason, but forts of Jodhpur and Bikaner belong to the family and foundations for both of them were laid by Karni Mata.
We started climbing during late afternoon after lunch to experience the sunset from the top. Since it was December the afternoon sunlight was very comforting.The path through which we enter the fort is etched with seven gateways each one of them symbolizes the victory of some ruler. On the way there are several musicians and folk dancers.The most exotic experience on the way is listening to the Kalbeliya music through Sarang and watch various men and women dressed vibrantly in traditional Rajasthani costumes. As you climb upwards you realize, you are nearing Palaces (Phool Mahal, Pearl Palace, Mirror Palace), Museums, Art galleries and Armoury.
Whole fort is marked with descriptive signboards to help tourists. You find elaborate information bulletins with each exhibit. But as soon as you see those palanquins and elephant howdahs you are spellbound and staring like a child.One is mesmerized by those beautiful artifacts. It is hard to believe that wood was shaped and molded this elaborately without any machinery only with basic instruments, with which people today are unable to shape vegetables for salad. As we move out of the museum my mind was still processing the beautiful patterns, we came across a newly constructed staircase or spiral staircase, spiral like the one we see in harry potter movies. We followed the staircase for rest of out tour. On the first floor is Moti Mahal or Pearl Palace you enter and you realize that how beautifully can these pearls be associated with intricate patterns to adorn the walls. One needs a constant reminder to keep moving or else you will be stuck staring. Then in Sheesh mahal or Mirror Palace you see your own reflection between the artistically painted walls and intelligently placed mirrors. You discover altogether a new beauty in your face when associated with those elaborate paintings and carvings on wall. Other than Palaces every floor has several antiques and household items from that period on display.
You need a constant reminder to move on because every single place is sight to behold.with the help of constant reminders we reach the terrace , which houses the collection of cannons used in various wars by Rathore family. Also the spectacular view of the city finally does justice to the name 'blue city' and the eagles circling above your head make you realize that the story about the queen feeding eagles at chamunda mata mandir in fort is one hundred percent true.
But as you watch all this you are not wooed by extravagant show of wealth.The only thought which whisks you off your feet is the hard work  people did back then .The ruler worked to fight for his people, and people were skilled beyond perfection back then because they did all this work with basic instrumentation.The wind was roaring in my ears and I breathe  slightly more to intake everything with the air . After this we had tea in the cafeteria , our buses were ready to take us back , sun has set and we bid our good bye to the sun fort .