"You can cut all the flowers but you cannot keep Spring from coming." ― Pablo Neruda
Well, most of do not have the privilege to be amidst mother nature's beauty and bounty. We're trapped in the mundane monotony of the concrete jungle with our eyes growing used to the drab surroundings. Holi, the festival of colors has reminded us that spring is here!Recently I noticed the good old pompoms have become a sensation. The word pom-pom is derived
Recently I noticed the good old pompoms have become a sensation. The word pom-pom is derived from the French word pompon, which refers to a small decorative ball made of fabric or feathers. It also means a " wear ornamental round tuft". Popularized by cheerleaders during sports events, pom-poms attract the attention of the crowd, distract the opponents, and add to the happy vibes. The Roman Catholic clears the biretta in which the color of the pom-pom denotes rank and it is also a part of Scottish military uniform, Turkish dancing shoes, and Italian wedding shoes. Pom-poms have also been used in children's toys.
These fluffy tufts have taken over the Global market since 2016 when Zara decided to create a whole new range of shoes, jackets, scarves, totes and key-rings flaunting them. It creates a rather bold statement and inevitably uplifts one's mood.
Shoes :
Firstly, let's focus on shoes. To go minimal, try pumps with one pompom at the tip to spice things up with casual denim and top.
If you're daring and want a fresh look, try gladiator sandals with small pompoms of various colors on nude straps. Team the gladiators with short dresses or high-end- low ones. They look amazing with denim shorts too. These go really well with white, black, or any solid color for that matter. Try and avoid florals or big prints.
Tops:
Tops with pompom lining can be your ideal look for a summer's day out. Team it with ripped denim or denim shorts for a cool look.
If you want a loud statement, go for all-over pompom knit with a tank top with a pencil skirt or straight cut pants.
Jackets:
Colorful jackets with pompom is a statement piece and can add the funky edge to almost anything.It looks amazing with long skirts and palazzos too. Wear a solid top and layer it with your statement jacket for an ethnic chic look.
Scarf:
If you are looking for a more subtle something, a pompom scarf is a wardrobe essential. If you have to go to a party after office or meet your friends, a scarf will create your boho look. Team it with solid breezy tops or off-shoulder ones. Cotton kurtas look cool with the casual drape of the scarf.
Bags: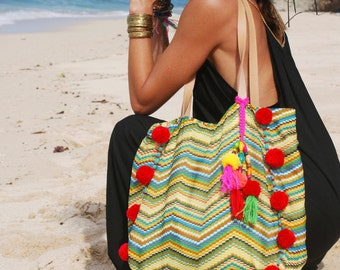 If your style is sophisticated and you want a minimal look, a chunky tote with pompom detailing is a must try. Camel -skin, berry, white, black, beige are the safer colors whereas bright Fuchsia, yellow, royal blue may give you the spring vibes. You can go for pastel hues too for a cool summer look. You can also try printed ones for the extra edge.
Jewellery:
Pompom earrings, neckpieces, bangles, and bracelets have spread like wildfire across India and have the hippie vibes going.
It is more suited for fun parties and should be avoided in official events. They look good with khaki Curtis of earthy shade and bright colors and must be teamed with textured partially or plain palazzos.
Caps:
The winter pompom style is very Tinkerbell-like. Woolen caps with pompoms look really cute.
Out of the box!
Pompoms have also made their way into furniture such as chairs. Wall-hangings and mats also look really good when placed properly.
Embrace the trend keeping in mind your style or try a little variation since "variety is the spice of life."